The Mousetrap Tickets and Dates
St Martin's Theatre, London
When The Mousetrap re-opens the West End, it will do so with TWO alternating 8-member casts for the first time.

Agatha Christie's The Mousetrap is the world's longest-running play. This thrilling West End production – which has become as much of a London icon as Big Ben or Buckingham Palace – is THE genre-defining murder mystery from the best-selling novelist of all time… case closed!

As news spreads of a murder in London, a group of seven strangers find themselves snowed in at a stately countryside guesthouse. When a police sergeant arrives, the guests discover – to their horror – that a killer is in their midst! Which one is the murderer? Who will be their next victim? Can you solve the mystery before another "mouse" goes SNAP?

For almost 70 years, Agatha Christie's The Mousetrap has kept millions of people from every corner of the globe on the edge of their seats. COULD YOU BE NEXT?
Watch The Trailer
TWO CASTS, ONE CLASSIC. Which one will you see!?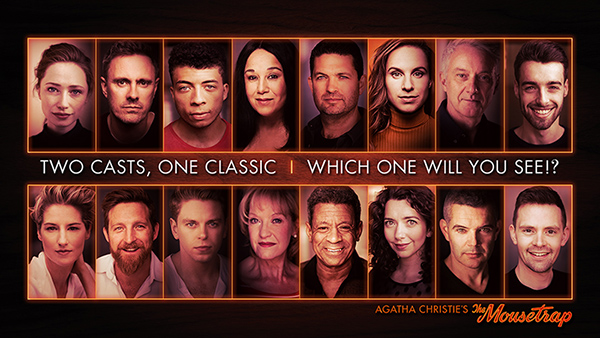 Steps taken to make the venue Covid Secure.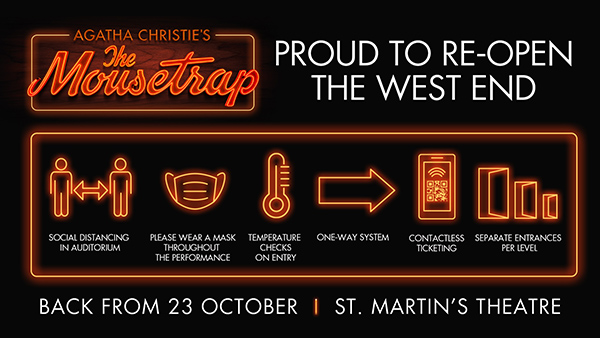 To help ease the movement around the theatre each level now has its own separate entrance:
For the Stalls and Boxes A&B the entrance is to the left of the main doors.
For the Dress Circle and Boxes C&D the entrance is through the main doors.
For the Upper Circle the entrance is to the right of the main doors.

Changes you will notice in and around the theatre when you visit:

- A few hours before you arrive at the theatre you will be asked to self-certify that you and no members of your party have any of the COVID-19 symptoms.

- We have introduced 100% contactless tickets. When entering the auditorium please display your e-ticket to a member of staff for scanning.

- Your temperature will be taken before you enter the theatre.

- Contactless bag searches will be in operation.

- Once inside the auditorium the reduced capacity will become evident and you will notice that no customer bubbles will be seated within one metre of each other.

- We ask that all customers wear face masks throughout the performance.

- A one-way system will be in operation around sections of the venue. Please observe the signage as you move around the theatre.

- Drinks, programmes and merchandise can be ordered from your phone, and will be delivered to your seat. See the tab at the top of your e-ticket for more information.

- Please arrive in plenty of extra time to allow for social distancing whilst taking your seat.

- Hand sanitizers will be placed throughout the theatre - please use these on entering the theatre, and throughout your visit.

- The Cloakroom will not be open so please do not bring bulky items that cannot be kept with you.
Important Information
BOOKING PERIOD: Until 28 March 2021

PERFORMANCE TIMES: Monday - Saturday: 7.30pm, Tuesday& Thursday: 3pm and Saturday 4pm

RUNNING TIME: 2 hours and 20 minutes; this includes a 20-minute interval.

AGE RESTRICTION:Children under school age will not be permitted and the recommended age for the Mousetrap is 7 years and above. Children under the age of 16 will not be permitted entry into the auditorium without an adult present. All children must have their own ticket.

VENUE: St. Martin's Theatre, West St, London WC2H 9NZ
What people are saying about The Mousetrap